"Polyptych of St. Peter" by Pietro Perugino (Public Domain)
Easter Vigil / Easter Sunday Schedule 2022
Easter Vigil on Holy Saturday — April 16
3:00 pm — Chaplet of Divine Mercy
8:00 pm — Bilingual Easter Vigil
Easter Sunday Mass — April 17
---
Happy Easter!
Happy Easter! Or as most other languages prefer: Blessed Pasch–Passover! Pasqua, Pascua, Páscoa, Pâques! Israel's Passover through the Red Sea to the Promised Land! Jesus' Passover through the Cross to resurrection! Our catechumens' Passover last night, and ours once upon a time, through Baptism's waters to our family's Eucharist! Welcome, everybody!
As someone once said of the Catholic Church, "Here comes everybody!" So in this Jubilee of Mercy, we make our own Saint John Chrysostom's Easter welcome from fourteen hundred years ago: "Let everyone enjoy this radiant feast! You who fasted from Lent's beginning, and you who didn't fast at all, rejoice! The table's richly set! Come, take from it, everybody, no worries, no embarrassment! All of you, taste the banquet of faith! Enjoy the feast of forgiveness! Let no one grieve for having sinned again and again: pardon has risen from the tomb!"
Happy Easter! Blessed Pasch!
Welcome, everybody!
Copyright © J. S. Paluch Co.
---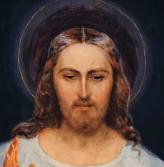 Novena to Divine Mercy
April 15-24